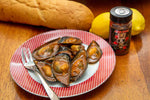 Need a filling seafood dinner that will make you tingle from your tongue to your toes?
We can help with that. This recipe is deadly simple and wildly tasty. We're sure it's the Mad Dog Reaper Pepper Puree that makes this dish sensational.
What do you think?
Serves: 4
You'll need
2 tablespoons olive oil
1 onion, diced
2 cloves garlic, minced
½ teaspoon Mad Dog 357 Reaper Pepper Puree
1 tablespoon tomato paste
2 pounds tomatoes, finely chopped
½ cup dry white wine
3 pounds prepared mussels
Salt and pepper, to taste
Preparation
Heat oil in a large skillet over medium heat. Add the onion and garlic and cook for 5 minutes until the onion is soft. Add the Mad Dog 357 Reaper Pepper Puree and tomato paste and cook for 1 minute. Add the chopped tomatoes and wine, stir to combine and allow the mixture to boil. Simmer for 10-12 minutes, until the mixture is thick, and the tomatoes have broken down. Season to taste and blitz with a mixer for a smoother sauce.

Add mussels to sauce. Cover and cook for 3 - 5 minutes or until mussel shells open, shaking the skillet occasionally. Discard unopened shells, then serve hot with crusty bread on the side.