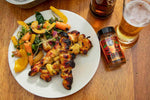 These sweet and hot AF kebabs are exactly what you want on your end-of-season BBQ menu.
Each bite of these scoville-laden chicken kebabs has a touch of sweetness to keep you reaching for skewer after skewer, even as you begin to believe your lips are melting from the heat.

Throw 'em on the grill, or broil these Kicking Chicken Kebabs when the weather turns. It's that simple. Add a little salad and you're all set. Or yank the chicken from their skewers and toss into a pita for an easy lunchtime snack.

No matter what; it's the kick on this chicken that'll set you screaming with a twisted mix of tasty pleasure and Mad Dog pain.
Serves: 4
You'll need:
1½ tablespoons olive oil
1 onion, diced
3 cloves garlic, minced
2 teaspoons Mad Dog Habanero Pepper Puree
1½ tablespoon apricot jam
1 cup white wine vinegar
2½ tablespoons milk
2 bay leaves
3 pounds de-boned chicken pieces, cut into cubes
skewers, soaked in water
Preparation
Heat the oil in skillet over medium heat. Add the onions and garlic and sauté until soft, about 5 minutes. Add the Mad Dog Habanero Pepper Puree and cook for an additional 30 seconds. Add the jam, vinegar and milk and allow to boil. Reduce the heat, add the bay leaves and simmer for 5 minutes. Remove from the heat and allow to cool.

Meanwhile skewer the chicken pieces and arrange in a dish large enough to accommodate the skewers in a single layer. Pour the marinade over, cover and refrigerate overnight.

When ready, cook the marinated chicken skewers on the BBQ over high heat, turning and basting as needed. Alternatively, broil the skewers in the marinade, turning and basting as needed for 35-40 minutes, until cooked through.

Serve with your favorite Mad Dog hot sauce on the side.