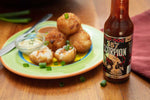 Can we get a hell yeah for this delicious fried dish bursting with the heat of scorpion hot sauce melted together with cheese?


Yeah, it will take some time before you're popping these rice balls in your mouth, but it's worth every minute.
Just try it; you'll see.


Serves: 4-6
You'll need:
2 tablespoons each: olive oil, butter
1 onion, diced
1 clove garlic, minced
12 ounces risotto rice
5 fl. oz. dry white wine
2 1/2 pints chicken stock
5 oz. each: grated parmesan, mozzarella
1 lemon, zested
1 teaspoon Mad Dog Scorpion Hot Sauce
1 1/2 cups each: all-purpose flour, panko breadcrumbs
3 eggs, beaten
Vegetable oil, for deep frying

Preparation
Heat the oil and butter in a large saucepan over low heat. Add the onion and fry for 10 minutes. Add the garlic and cook for 1 minute. Add the rice and stir to coat with the oil and butter. Pour in the wine, allow it to boil and cook until it has reduced by half. Pour in half the stock and cook, stirring almost continuously until the liquid is mostly absorbed. Continue adding stock, 1 cup at a time until absorbed, stirring frequently. When the rice is cooked, add the parmesan and lemon zest and stir to combine. Remove from the heat and set aside to cool.

Meanwhile, cut the mozzarella into 18 cubes and toss with the Mad Dog Scorpion Hot Sauce. Set aside. Place the flour, eggs and panko breadcrumbs into separate shallow bowls.

When cool enough to handle, shape the rice into 18 balls. Wearing gloves, press a cube of Scorpion-soaked mozzarella into each ball. Dip each one into the flour, then the egg, then the breadcrumbs, shaking off excess as you work.

Heat the oil in a wok or heavy-bottomed pot over medium-low heat. Carefully place each rice ball into the hot oil (you may need to work in batches). Cook for 8-10 minutes until each one is golden and crispy on the outside. Drain rice balls on paper towel and serve hot with more Mad Dog Scorpion Hot Sauce on the side.