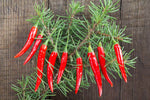 There's always such a huge amount of pressure placed on Christmas gift-giving, isn't there?
Maybe there shouldn't be, but there is.


The pressure looks something like this:


You just found out that your cousin will be in town for Christmas, so you've invited him to spend the day with your family. It's the right thing to do, of course, but now you have to get him a gift. Why? Because now you know he'll get you something. The trouble is that you don't know if he's bringing a little something for everyone – or if he plans to splash out on something nice for you. So now you've got to figure out what kind of gift says whatever it needs to based on the present he's chosen for you. Of course, you have no idea what that is because you've not spent a lot of time together as adults.

So, you begin stressing. As time propels you ever closer to the big day, you start developing back up plans like gift cards or bottles of alcohol. You know, just in case you can't figure out the right thing before it's time to have whatever it is wrapped and under the tree.

Luckily, we can help you with that. Or, rather, the liquid gold we bottle into each of our hot sauces is on standby to make everything easier.

Here's how:

Mad Dog always makes a good gift. Imagine you've just unwrapped a gift box of Mad Dog super hot sauces. Yes, that's right, new, fiery bottles of the world's hottest hot sauces. Your brain starts deciding which one you'll open first. You can't wait to break out the toothpicks and do a tasting. That joy and excitement is exactly what you're giving every time you give someone the gift of Mad Dog, so why wouldn't you If you've got to go shopping, you may as well enjoy it.
Hitting the shops in the days before Christmas is completely disheartening. There's too much advertising and never the one thing you want waiting for you on the shelves. You're constantly searching for parking and pushing your way through the crowd. It's easy to become overwhelmed. Well, unless you do it all with a hot sauce high Get it all done online.
It's super easy to get your gift shopping and your Christmas feast organizing is done online in one place. Yep, you can plan the recipes you need for your holiday feast using the Mad Dog recipe blog, get the key ingredients for those (which, of course, are Mad Dog hot sauces, purees, and extracts) and get the gift that keeps on giving (again, Mad Dog hot sauces) through Mad Dog.

That's it; that's how Mad Dog makes Christmas shopping easy. And isn't it time you made your holiday season a little easier?

Make the most of this Christmas.