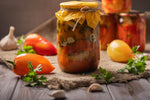 You know how it goes.
You plan to get all your holiday gifts early.
Or, you're totally set on making homemade gifts; because, how many of us wait for Christmas to get the things we want these days?

You know in January just what you'll get or make for everyone. Then, you think about it again in September. Suddenly, it's the middle of December and you're sweating even without the help of the world's hottest hot sauce.


What were you going to make?
Do you really feel like battling the crowds to pick up a few gifts?

Don't worry; we've got you covered with four incredible homemade gifts that will make all the hot sauce lovers in your life smile. And, they're super fast and easy to put together.

Sharpshooter Stout BBQ Sauce

This is the BBQ sauce of dreams. It's all the goodness of the best BBQ out there, but it's hotter than hell. There's nothing like it and it'll be the one gift you're asked to make time and time again. A quick trip to the grocery store and a couple of glass bottles is all you need to handover this crowd-pleaser.

Rosemary and Chili Extract Oil

Easier still (and perhaps even hotter) is this extract oil. It's got a flavor you can't escape – and it'll take just moments out of your day to prepare. But, watch out, you may have a hard time parting with the last bottle.

Take Your Breath Away Bacon Jam

It's Mad Dog. It's bacon. It's jam. Is there anything this is missing (okay, besides deep-fried cheese)? It'll take a bit more effort to prepare than chili oil, but it'll definitely spread holiday joy all over toast or crackers. How could you go wrong with that?

Make Your Own Hot Sauce Mad Dog 357

Take the cheats way and grab this DIY hot sauce kit. It's got everything you need to make the perfect, bespoke hot sauce for the chili head in your life. And, if you run out of time, you can just hand over the kit. Could it get any easier?

Just want to gift the world's hottest hot sauces?

Yeah, we've got 'em ready for you.