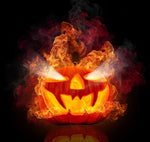 Halloween is one of those rare moments on the calendar when you get to let loose.
It's an excuse to dress up, play a few pranks and act a little kooky. Scary films make their way back onto the rotation and you'll find a few restaurants offering hotter than hell meals (or at least their version of hot – which is likely to be mild for you).
Enjoy it.
You know what happens next, don't you?
Suddenly, we're likely horses crammed in at the gates, waiting for a race to start. It's a race to the end of the year while seemingly spending as much money as possible. You know you're in trouble when Black Friday is almost a holiday, right?
If you're going to get involved with feasting, violently pushing people out of your way in otherwise civilized stores, spending small fortunes, wrapping, decorating and ensuring you've got something planned for the last night of the year… we say, enjoy Halloween while it lasts.
What does your super hot Halloween party look like?
Your hellishly happy Halloween party might just be you stuffing your face in the corner. We don't know; It could also be a massive party that you've spent weeks organizing.
At Mad Dog HQ, we believe most Halloween celebrations fall somewhere in the middle of these two extremes.
Now, of course, we're chili heads, so we see a lot of gatherings where it's all about the extreme heat you can manage. Forget about scaring the crap out of young trick-or-treaters; these experiences are more about scaring yourself by pushing your Scoville boundaries (and, likely being taunted by your friends until you succumb to the capsaicin hell they're already in).
Whatever your Halloween plans, you'll want these dishes on the table
Make a few for the crowd of a single dish so you can shovel Scoville in your mouth before handing out candy at the door. Either way, you'll find a hellishly hot dish that's perfect for Halloween in this list:
Need something hellishly hot for Halloween?
You're in luck, that's exactly what we do. Mad Dog 357 hot sauces are the hottest on earth and you can get them right here.