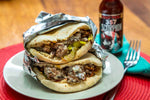 Who doesn't love a shortcut to mealtime?
No one, that's who.
So, we thought about the best way to make a pre-mix packet into a searingly hot kitchen experience. Voila! We've created this falafel just for you Scorpion hot sauce lovers out there.
Using a mix is the only way to go when you're craving falafel; cooking them from scratch (and doing a good job of it) is really heart-wrenching work. (No really, go ahead and try.)
This version is deadly simple and scorchingly delicious. Just be sure to add plenty of creamy tzatziki to the mix.
These are hot as hell!
Serves: 6
You'll need:
½-1 tsp Mad Dog 357 Scorpion Hot Sauce
1 package falafel mix (pick your favorite)
water, oil (as per premix instructions)
6 small pita, split open
pickled jalapeños, shredded cabbage, lots of hummus and tzatziki, to serve 
Preparation
 Use the instructions on the pre-mix to mix your falafels, reduce the water content by 1-2 teaspoons and add the Mad Dog 357 Scorpion Hot Sauce instead. Make sure you're wearing gloves when you mix the contents into balls or you'll be very sorry.
Cook the falafel according to package instructions, and assemble your pitas with your favorite toppings. Make sure you've got plenty of hummus and tzatziki – there's a scorpion sting in every bite.