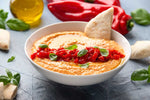 If you're tired of making the same old thing for dinner, you may want to try a simple summertime recipe that's also anti-inflammatory.
Not only do some of these meals taste great, and potentially register on the heat scale, but they're also easy to prepare and they're good for you, too.
Quinoa & Chicken Parmesan Stuffed Peppers
If you love the taste of Chicken Parmesan, consider making chicken and quinoa stuffed peppers. You'll need large red bell peppers, filled with a mixture of shredded cooked chicken breast, marinara sauce, Parmesan cheese, quinoa, onion, and garlic. Sprinkle the peppers with mozzarella cheese and basil. In total, the meal takes about an hour to complete, but you can always prep the day before to cut time.
Hummus plate
For a flavorful hummus plate, grab some mini bell peppers, some green beans or sugar snap peas, some white bean dip and some Castelvetrano olives. You'll also want to use crackers, roasted pepitas, red grapes, cubed watermelon, and coconut-date balls. In this case, you don't have to cook at all. Just assemble everything on small plates or a large platter.
Quinoa chickpea salad with roasted red pepper hummus dressing
Try using a roasted pepper dressing to help bring more flavor to a quinoa chickpea salad. To make the dressing, use some chopped roasted red pepper for flavoring, and add it to hummus and lemon juice. You'll then want to thin it down with water to the right consistency for a dressing. Drizzle the mixture on a salad of chickpeas, cooked quinoa, mixed greens, and unsalted sunflower seeds.
Veggie & hummus sandwich
You don't have to heat up the oven to make a veggie and hummus sandwich, either. Take a sliced red bell pepper and some mixed greens, a shredded carrot, and a sliced cucumber. Add it to some mashed avocado and some hummus on whole grain bread. It's a quick summertime meal that hits just the right spot when the weather warms up.