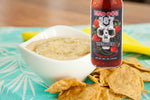 This is almost a perfect snack dip and the kind that you aren't physically able to walk away from.
It's super simple to make and you may even want to blend up a double batch… you know, just because you don't really want to share. You'll get 2-3 cups from this mix and we can promise it won't feel like enough. If there is any left (which we doubt).
It's the perfect addition to sandwiches at the office.


Ingredients
2 cans Garbanzo beans (chickpeas), drained and rinsed
½ bottle Mad Dog 357 Sriracha Hot Sauce
2 tablespoons Olive oil
2 tablespoons Honey
1 clove Garlic, crushed
½ teaspoon Salt
3 tablespoons Cold water

Preparation
Place the Garbanzo beans (chickpeas) in a blender or food processor and pulse until smooth. Add the Mad Dog 357 Sriracha Hot Sauce, olive oil, honey, garlic, and salt. Blend again until smooth. Then, with the blender running on low, add the cold water slowly through the lid. Once all the water has been added, purée until smooth and creamy, then serve with chips for dipping.