Blog — Mad Dog 357 Gold Edition
You may love extra spice, but your spouse or best friend may hate it. So how do some people end up loving it, while others would rather do without? It may have to do with how you grew up, or even your adventurous side.
---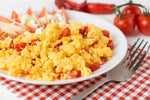 You've probably heard that breakfast is the most important meal of the day, so why not start your day off right? Sure, you can go for traditional bacon and eggs, bagels, or pancakes, but you can also take it up a notch by adding some extra spice.
---
If you want to impress your family and friends at your next get-together, you may want to consider whipping up a spicy appetizer sure to please the crowds. Blistered shishito peppers are not only easy to make, but they taste great too. Shishito peppers aren't very big, but they're big on taste.