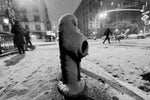 You might think there's zero connection between hot sauce and your pets.
And, for the most part, you're totally right. For example, you should never feed hot sauce to your pets. That includes cats, dogs, hamsters, pigs, or any other pets you may have in your home.
Incidentally, birds are the exception; they don't react to capsaicin the same way other animals do. Then again birds probably aren't going to start craving the vinegar found in hot sauces like our killer Mad Dog 357 Gold Edition Hot Sauce.
To be fair, you probably don't want to waste your carefully curated super hot sauce collection on any of your pets, including your birds.
So how does
 

Mad Dog super hot sauce

 

help with pet care?

Picture this:

It's time to walk the dog. You're both dreading it (though he still loves it). The street lights are already on, but somehow it's never bright enough with winter's constant cloud cover above. All the grass is covered with snow, while puddles of nearly frozen water line the sidewalks. It's a wet mess of boots and coats and scarves standing between you and the door. So, you think about skipping the walk.

You've been there, right?

It's time to walk the dog. Instead of grumbling as you stare out the window, you head to your stash of super hot sauces. Tenderly, you grab that bottle of Mad Dog 357 Gold Edition Hot Sauce and unscrew the lid. You just dab a toothpick around the rim and place it on the center of your tongue. Now you're on fire. Pulling on those boots, you're anxious to step outside. Sure, it'll be a short walk; it's only 15 minutes before the heat in your head begins to subside.

Okay, we haven't yet figured out how hot sauce helps you to care for your other pets in winter. But, it's something we're working on.

Until then, don't you think you need a new bottle of Mad Dog 357 Gold Edition Hot Sauce to get you through the rest of winter?