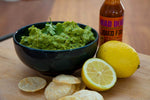 You don't need to stick with the same boring guacamole recipe that you've always used.
Change it up with fresh peas and some Mad Dog Liquid Fire. You won't regret it. In fact, you'll want to make a double batch for your end-of-summer BBQs.
That's because this is ever so good; and it's soon to be your go-to guacamole recipe. Seriously.


Ingredients:

1 cup fresh peas
1-2 tablespoons Mad Dog Liquid Fire
2 medium limes, squeezed
½ medium Red onion, finely chopped
3 medium Avocados
½ cup Fresh cilantro, chopped
Salt and black pepper, to taste
Cilantro leaves, to garnish

Preparation

Cook the peas in a pot of boiling water for 3 to 4 minutes or until they are tender. Drain and rinse with cold tap water.

In a separate bowl, combine the Mad Dog Liquid Fire hot sauce, lime juice, onion, and garlic. Add the peas and avo and gently mash until chunky. Then, add the cilantro, salt, and black pepper. Mix well, taste for seasoning, and serve with chips for dipping.