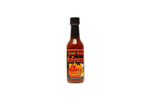 The Tab, July 28-August 3, 1998
Hot dog!
Local 'Mad Dog Inferno' is the hottest sauce
The question of "Which hot sauce delivers the most heat?" has been a source of fiery debate among the chili-heads for years.  Well, now you can scuttle all those subjective opinions.  In a recent scientific comparison of more than 100 self-proclaimed mouth-sizzling sauces, Massachusetts's Mad Dog Inferno, produced by Ashley Foods in Dedham, blistered the competition into submission to rightfully earn the title of "The World's Hottest Sauce."
"Ever since I made my first batch, I always knew my Mad Dog Inferno was a scorcher of a hot sauce," says David Ashley.  The do-everything of Ashley Foods, David Ashley has been producing a line of all-natural sauces and marinades for eight years, and he says he's long been eager to prove that no product was hotter than Mad Dog Inferno.
The 'hotter than' market of hot sauces is growing by leaps and bounds every year," says Ashley.  "Of course a lot of them are very hot, but I never found one that could blow away my Mad Dog Inferno."
Spurred by the folks at the "Mo Hotta, Mo Betta" catalog, Marlin Bensinger of Chromtec Laboratory in West Palm Beach, Fla., tested more than 100 sauces.  While there were many with catchy names like "Devil Sauce," "Volcano Sauce" and "Burnin' Sauce," Mad Dog Inferno hit the highest reading using high-pressure liquid chromatography, an instrumental test to measure pepper heat in percent of capsaicinoids per million: 89,560, almost 6,000 units hotter than Mad Dog's nearest competitor.
Ashley is quick to point out that Mad Dog Inferno "is more than just bottled heat.  We use sweet, unsulphured molasses, top-quality red wine vinegar, two kinds of imported cloves and the very best Caribbean spices and hot peppers to make 'Inferno.' I'd call it savory heat."
With a legal warning on the bottle, Ashley recommends "a dose of one scant drop or less.  It's really hot."
But lest you think the boss of Boston sauces rides only on a fiery one-way street, his line includes a beguiling cilantro-rich "Green Amigo," which can add a tangy zip to dishes like grilled shrimp, a ginger-laden teriyaki dubbed "Samurai Sauce," three levels (mild to hot) of barbecue sauce and his newest sauce, "Mad Cat."
"You can add a few drops [of Mad Cat] into stir-fries, mix it with black beans and dab it on chicken wings to turn them from Buffalo-style to Belize-style.  And if you like tequila," adds Ashley, "put a drop between your thumb and forefinger and lick it as you would salt."
A wide range of Mad Dog sauces and marinades can be found in The Wild Harvest section at many Star Markets, Le Saucier in Faneuil Hall, Martignetti's in Brighton and the Bread and Circus in Brighton; to order by mail, call 1-800-61-SAUCE and check out their Web site at www.ashleyfood.com