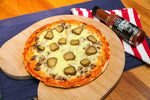 Remember when you had to choose between tacos and pizza or pizza and burgers.
As you well know, those days are over. They have been for a while apparently, George W. Bush's favorite food is Cheeseburger Pizza. And, if you add a bit more heat, it's even better than it sounds. We'd like to say you should save this indulgence for President's Day, but we know you'll eat this way more often.
We'll chalk it up to the way this scorpion stings.
Ingredients
4 ounces Ground beef
1 each Red onion, sliced
1/8 teaspoon salt
1 teaspoon Mad Dog 357 Pure Ghost Hot Sauce
2 tablespoons Mayonnaise
2 tablespoons Ketchup
1 large prepared pizza crust
2 ounces Mozzarella cheese, shredded (about 1/2 cup)
1 ounce Cheddar cheese, shredded (about 1/4 cup)
10 each Dill pickle slices
¼ teaspoon Freshly ground black pepper
Preparation
Preheat your oven to 450°F. Line a baking sheet with foil and set aside.
Heat a large nonstick skillet over medium-high heat. Add the beef, onion, and salt and cook until beef is browned. Remove pan from heat and set aside.
Combine the Mad Dog 357 Pure Ghost Hot Sauce, mayonnaise and ketchup in a small bowl, stirring with a whisk. Spread mayonnaise mixture over crust, leaving a border for your crust. Top with the beef mixture and then the cheeses. Add the tomato slices and pickles and sprinkle over the pepper. Bake for 8 to 10 minutes, or until cheese is lightly browned. Cut into wedges and top with more Mad Dog 357 Pure Ghost Hot Sauce to your liking.