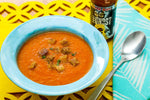 What goes better with grilled cheese sandwiches than a hot bowl of tomato soup?
Add in a Mad Dog kick and you've got yourself comfort food as you've never imagined. This recipe serves three to four people (depending on their level of greed) and will be on the table in less than half an hour.
And, it's easy enough to multiple for a great big party.
Ingredients
2 tablespoons Olive Oil
2 medium Onions, chopped
2 cloves Garlic, freshly minced
½-1 teaspoon
Mad Dog 357 Pure Ghost Hot Sauce
3 cups Chicken Broth
1 can (28 oz.) Crushed tomatoes, undrained
1 teaspoon salt
½ teaspoon Black Pepper, freshly cracked
1 each Bay leaf
Preparation
Heat the oil in a large saucepan over medium-high heat. Add the onions and sauté for 4 minutes, stirring constantly. Add garlic and cook until fragrant (about 30 seconds).
Pour in the Mad Dog 357 Pure Ghost Hot Sauce, chicken broth tomatoes with juice, oregano, salt, pepper, and bay leaf. Stir well to combine and allow to boil before reducing the heat; then cover and simmer for 15 minutes. Discard the bay leaf.
Purée to desired consistency with an immersion blender or food processor. Serve piping hot with grilled cheese.