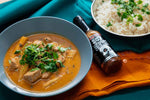 Ready to get into the swing of the Tony awards?
How about taking it back a few years to the days when South Pacific was all the rage?
This Thai curry will make your taste buds sing along with the songs you know you'll be humming as you cook. And, we've loaded it with a burst of Mad Dog fire to make everyone happy.
It's a simple curry, so there's no reason to run away from it. Even better, it takes less than half an hour for all the flavors to blend and heat, so you'll be able to eat almost as soon as you start to drool.
And, if you're looking for one more reason this recipe for four to be a winner – it freezes beautifully, so if you're looking for an easy meal later in the month, you'll have one to hand.
Score.
Ingredients
1 tablespoon Vegetable oil
1 bunch Spring onions, sliced
1 bunch Coriander, chopped
14 ounces Pork tenderloin, sliced
1 teaspoon Mad Dog 357 Pure Ghost Hot Sauce
4 tablespoons Peanut butter
1 tablespoon Brown sugar
1 tablespoon Soy sauce
1 can (13.5 oz.) light coconut milk
6 ounces Baby corn
1 each Lime, juiced
Steamed rice, to serve
Preparation
Heat the oil in a large saucepan over medium heat. Add the spring onions and half the coriander (aim for mostly stalks) and cook, stirring regularly for about 1 minute. Then add the pork slices and continue to stir and cook until the meat begins to brown. It should be about 5 minutes.
Then, stir in the Mad Dog 357 Pure Ghost Hot Sauce along with the curry paste and peanut butter. Stir to coat the meat with the Mad Dog, curry paste, and peanut butter, then add the sugar, soy, and coconut milk, plus a half can (coconut milk can) of water. Mix well, then cover the saucepan with a lid and simmer for 15 minutes, stirring occasionally, so nothing sticks to the bottom.
After 15 minutes, add the baby corn and increase the heat to medium-high. Allow the curry to boil and thicken for about 3 minutes. Finally, stir in the lime juice, and season to taste, if desired. Serve hot with the rice and the reserved coriander.