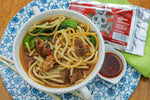 Looking for a noodle dish that'll change your life?
This one might do it. At the very least, you'll fall in love with the intensity a reaper pepper can really add to a serious soup.
Try it, you'll be happy you did.


Serves: 4
You'll need:
vegetable oil
3 each: sliced spring onions, slices of fresh ginger, star anise
1½ lb. beef flank cut into a small dice
2 tbsp. Chinese bean sauce
a few snips of Mad Dog 357 Reaper Pepper
2 c beef stock
4 tbsp. soy sauce
6 tbsp. rice wine
2 tsp each: salt, sugar
6-8 small bok choy
Udon noodles, to serve

Preparation
Coat the bottom of a wok with vegetable oil and heat over high heat. Add the spring onions, ginger and star anise to the wok and toss to coat in the oil. Add the beef and the bean sauce and cook for a few minutes, stirring regularly, until the meat is evenly browned. Add the Mad Dog 357 Reaper Pepper and stir through.

Add the remaining ingredients, except the bok choy and noodles. Stir to combine, then reduce the heat to low, add the bok choy to the wok and allow to simmer for an hour.

To serve, divide the noodles between bowls, then pour over the beef flank soup.

If you're feeling very adventurous, grind a few more reaper pepper pieces with a mortar and pestle, then add a little oil, sugar and salt to make an extra spicy chili oil for anyone that can handle the heat.