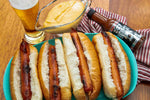 There can't possibly be a better way to enjoy brats than pre-cooking them in beer before smothering them in a Mad Dog beer cheese sauce.
Sounds amazing, right?
And they are! This recipe makes enough for 10 brats and each one will be devoured in minutes; they're simply addictive. We've developed this recipe for National Barbecue Day on May 16th, but you're going to want them all year long. (Use your oven's grill if you really can wait through the winter months.
Better still, the flavor and the ghostly heat are intense, but the preparation isn't.
What a win!
Ingredients
40 ounces Beer (your favorite ale or lager), divided
1 each Onion, sliced
2 cloves Garlic, minced
10 each brat
10 each Hot dog buns
>2 tablespoons Butter
2 tablespoons all-purpose flour
1 teaspoon Mad Dog 357 Pure Ghost Hot Sauce
4 ounces Milk
8 ounces Cheddar, shredded
Preparation
Preheat your grill. (Your outdoor grill is definitely best, but you can use the oven grill in a pinch.)
Add 36 ounces of the beer with the onion and garlic to a large pot and allow it to boil. Add the brats and simmer for 15 minutes. Remove the brats from the heat and place them on a hot grill. Cook for 6 minutes per side until cooked through.
Meanwhile, prepare the Mad Dog cheese sauce. Add the butter and flour to a saucepan and cook over medium heat for 1 minute, whisking constantly. Add the Mad Dog 357 Pure Ghost Hot Sauce, then slowly add the remaining beer along with the milk, continuing to whisk constantly until the mixture has thickened. Remove from the heat. Stir in the cheese until well-combined.
Serve the brats in the buns, covered with the Mad Dog beer cheese sauce.