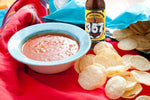 This is one of the most versatile sauces you can have in your arsenal.
It's super simple, yet wildly tasty. We love it as a dipping sauce, but if you stir in some ground beef or crabmeat, you could create a winning pasta dish. This recipe makes about 2 cups and will keep in the freezer if you plan to use it as a dipping sauce.

Ingredients
2 tablespoons Olive oil
2 tablespoons Butter
6 cloves Garlic, roughly chopped
1⁄2 small Onion, roughly chopped
1 tbsp. Mad Dog 357 Hot Sauce
2 teaspoons Brown sugar, packed
1 teaspoon Smoked paprika
1 (16-oz) can Crushed tomatoes
Salt and freshly ground black pepper, to taste
1 tablespoon Lemon or Lime juice

Preparation
In a large saucepan add olive oil and butter and heat at a medium temperature. After the butter has melted, add the garlic and onion and cook until golden brown. Stir in Mad Dog 357 Hot Sauce, sugar, paprika, tomatoes, salt, and freshly ground black pepper. Bring to a boil, then reduce heat to low. Stirring occasionally, allow the sauce to reduce slightly. Let it cool slightly before transferring to a blender. Then, add lemon juice and purée until smooth.