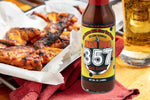 Need chicken wings?
Don't feel like heading out to pick some up? If you're stuck in this spot and you're not at all interested in deep-frying, we've got the answer to your pub-style chicken wing blues right here.

These 357-laden wings have everything you need - and without any real effort on your part. Truthfully, the hardest thing will be sharing them - so you may as well make yourself a double batch off the bat.

Yep, that good.
Serves: 2
You'll need:
1 bottle beer
1 tablespoon brown sugar
1 tablespoon salt
2 pounds chicken wings
1/4 cup butter
2 teaspoons Mad Dog 357 Hot Sauce
2 teaspoons paprika
2 teaspoons garlic powder
oven preheated to 350°F
baking sheet lined with baking paper
Preparation
Combine the beer, sugar and salt in a mixing bowl. Add the chicken wings and toss to coat. Cover and refrigerate for 30 minutes (or longer). Drain and arrange on the lined baking sheet.

When ready, heat the butter in a saucepan over medium-low heat. At the Mad Dog 357  Hot Sauce with the paprika and garlic powder and stir to combine.

Pour this mixture over your chicken wings. Toss to coat and place in the preheated oven. Bake for 30 minutes, turning once and basting the wings with whatever sauce has dripped off.

Check your chicken is cooked through and serve with ranch dressing and perhaps a little more 357 bite.