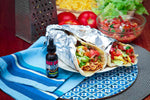 Pico de Gallo is a staple in Tex-Mex cuisine.
It's essentially freshly chopped tomatoes blended with oils, vinegars and herbs and it makes an incredible topping for tacos and nachos. The Mad Dog version of Pico adds a dash of Tequila mixed with Ghost Pepper Tequila extract (after all, you can't serve Mad Dog to kids, why not?). The result is likely to be the most delicious salsa you've ever tasted.

If you're looking for serving ideas, why not try Mad Dog Tequila Pico on tacos? We love it with Mexican spiced, shredded chicken topped with mature cheddar cheese and a bit of lettuce. Wrapping it all up in oversized, homemade tortillas makes it that much better.
 Mexican flat breads work just as well.


Ingredients
1 small Onion, finely chopped (or half a large one)
3 each Tomatoes, diced
1 clove Garlic, minced
½ cup Cilantro leaves, roughly chopped
½ teaspoon Sugar
Juice of ½ Lemon (or the juice of a small Lime)
1-2 teaspoon Apple cider vinegar (or any other white vinegar)
1 teaspoon Vegetable oil
Splash of Tequila
Eyedropper full of Mad Dog Ghost Pepper Extract Tequila Edition (though you may only want to add a few drops at a time)

Preparation
Simply add all of the ingredients to a bowl and mix. Cover and allow flavors to blend for a few hours before serving. (It really does make a difference – it also allows the extract to seep into the onions and tomatoes.)

Caution: if you've never prepared food with extracts before, you'll want to wear gloves and taste as you go.