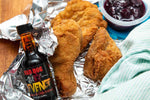 You know that moment on a road trip where you want to pull over in a picturesque location and have a fried chicken picnic?


Okay, if that's never happened to you, you can bet it's going to from here on out. And this is precisely the recipe you need to make it happen. The chicken and the blueberry honey both have a beautiful burn, and yet, you won't be able to stop eating it. It's super addictive!

The chicken is great whether it's hot or cold, so feel free to prepare a day or two in advance. As written, you can feed four to five people with this recipe (that's a car full!), and the only thing you'll need to pack with it are plenty of wet wipes for your hands.

How easy is that?


Ingredients
a few drops Mad Dog 357 Revenge Habanero and Chili Extract, divided
1 cup Buttermilk
3 tablespoons Sugar
1 tablespoon Garlic powder
12 pieces Chicken, assorted, on the bone
1 cup All-purpose flour
1 small container Blueberries
1/2 cup Honey
Vegetable oil, for frying

Preparation
In a large bowl, combine a drop or two of the Mad Dog 357 Revenge Habanero and Chili Extract with the buttermilk, sugar, and garlic powder. Mix well. Place the chicken pieces in this Mad Dog mix and stir well to coat the pieces as much as possible. Set aside.

Place the flour in another large bowl and set aside.

In a small saucepan, add the blueberries and a few drops of water and heat over medium. Cook until blueberries begin to break down, then add another few drops of Mad Dog 357 Revenge Habanero and Chili Extract and remove from the heat. Stir in the honey. Set aside to cool.

Heat a couple of inches of oil in a wok or extra-large skillet over a medium-high heat.

While the oil comes to temperature, remove the chicken pieces, one by one, draining excess Mad Dog buttermilk off each, then place in the flour and toss to coat. For really crispy chicken, return each piece to the buttermilk and then into the flour.

Tip: You'll need a couple of plates to make the transfer process easier between the different bowls.

When the oil is hot and the chicken is coated, add a few chicken pieces to the wok and fry until crispy and cooked through. Remove from the pan and repeat with the remaining chicken pieces.

To pack for a road trip, wrap a few pieces of chicken in foil and place the blueberry dipping sauce in small containers that seal tightly.