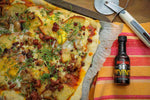 If you ever wanted a breakfast pizza, you're in the right place.
We whipped this one up you'll probably turn to it whenever you have a hangover or just because.
The recipe could serve 2-4 people, though we'd err on the cautious side if we were you; this pizza is, after all, as addictive as one would think. Perhaps it's even better than that. All we can say is that we're about to go prepare another one right now.
Who says you can't enjoy breakfast for supper?
Ingredients
1 pound pizza dough
several drops Mad Dog 357 Revenge Habanero & Chile Extract
3 tablespoons Pizza sauce
2 tablespoons Olive oil
5 slices Provolone cheese
1 cup Hash browns or tater tots, fried
6 slices Bacon, cooked and crumbled
2 Breakfast sausages, cooked and crumbled
3 large Eggs
Salt and pepper, to taste
Fresh chives and thyme leaves, to garnish
Preparation
Preheat your oven to 450°F. Take the pizza dough out of the fridge and allow it to sit at room temperature while you work. Prep the hash browns, bacon, and sausage if you haven't already.
Combine the Mad Dog 357 Revenge Habanero & Chile Extract with the pizza sauce in a small mixing bowl and set aside.
Drizzle the oil into a large oven-safe skillet and spread it throughout without heating it (you may need a paper towel to make it happen). Stretch the pizza dough into a circle roughly the size of your skillet and place inside your oiled skillet.
Spread the Mad Dog pizza sauce around the top of the dough, then top with the cheese, hash browns, bacon, and sausage. Place the skillet on a burner over high heat and cook for about 4 minutes, lifting a small bit of the dough to check that it's set and golden brown.
When the bottom has set, crack the eggs onto the pizza and season with salt and pepper. Place in the oven and bake for 8-10 minutes until the egg whites are cooked, and the cheese has melted. Serve hot with extra Mad Dog 357 Revenge Habanero & Chile Extract for those that love it.