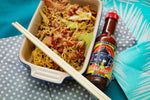 If you want to celebrate National Noodle Day on October 6th
East meets West meets Mad Dog favor, this is the recipe you need. Truly, it has everything.
For a start (and, obviously, most importantly), there's the mighty burn of our Mad Dog 357 Original Hot Sauce. On top of that, we've got bacon swirled in Asian flavors with a healthy dose of egg noodles.
And then, there are the speed and ease with which this recipe comes together. All in, this is a wonderfully fast, easy, flavorful, and burning hot recipe.
What more could you really want?
Ingredients
For the Mad Dog soy sauce
½ teaspoon Mad Dog 357 Original Hot Sauce
4 teaspoons Soy Sauce
1 tablespoon Rice wine vinegar (or white wine vinegar)
½ teaspoon Sesame oil (or vegetable oil)
1 teaspoon Sugar
¼ teaspoon Black pepper
For the noodles
1 teaspoon Vegetable oil
5-6 slices Bacon
½ Onion, sliced
4-5 Cabbage leaves
Preparation
Combine the Mad Dog 357 Original Hot Sauce with the remaining ingredients for the Mad Dog soy sauce and set aside.
Cook the noodles according to package instructions, until al dente, then drain and set aside.
Heat 1 teaspoon of vegetable oil in a large skillet over medium heat. Add the bacon and cook, flipping occasionally, until crispy. Transfer the bacon from the skillet to a plate and tear it into small pieces.
Add the onion to the pan and cook for 2 minutes, stirring regularly.  Add the cabbage and continue cooking and stirring until the cabbage begins to wilt.
Add the noodles to the skillet along with the Mad Dog soy sauce and stir to coat everything and combine the noodles and veggies. Return the bacon to the skillet and cook until just heated and combined. Remove from the heat and serve on a large plate to share or divide between bowls.