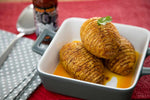 Can't think of anything besides ghost peppers and potatoes.
We get it. That craving comes to all of us at the best of times – and it's certainly been helped along by recent fast food trends. We've done it better though. You know, fresher and a lot more real. Just give these potatoes a try. You'll never turn back – especially when served on the side of an excellently grilled steak, a gorgeous salad, and an addictive sauce.
Ingredients
4 large Potatoes, washed
½ teaspoon Mad Dog Ghost Pepper Hot Sauce
½ teaspoon Ground Ginger
½ teaspoon Ground Turmeric
1 teaspoon Cayenne pepper
1 teaspoon Sea salt
3 tablespoons Peanut oil
Preparation
Preheat the oven to 400˚F. Hold the potatoes in place on a wooden spoon, flat side down. Then, begin slicing a potato as shown in the picture, working in thin intervals.
In a large mixing bowl, combine Mad Dog Ghost Pepper Hot Sauce with the remaining ingredients. Toss in the potatoes and marinate for about 20 minutes.
Arrange the potatoes in a baking tray and bake in the oven for about 25 to 30 minutes or until the potatoes turn slightly crispy on the outside and the flesh is soft.