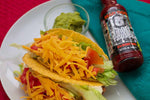 Take out tacos are never hot enough
No matter what little sauce packets you pick up. And, there's no reason to suffer when you can quickly whip up a batch of these ghostly hot tacos. No really, they'll take your breath away and then you'll go back in for more. You can feed six people if you limit it to two tacos apiece.
But let's be real – you'll probably only stretch this recipe four ways.
 Ingredients
 For the ghostly taco filling
1 teaspoon Vegetable oil
1½ pounds Ground beef
1 teaspoon Mad Dog 357 Ghost Pepper Hot Sauce
1 pack taco seasoning
½ cup Beef stock
For the tacos
12 taco shells
1 cup Sour cream
1¼ cups Lettuce, shredded
1 cup Tomato, diced
1 cup Cheddar cheese, shredded
 Preparation
To make the taco filling, heat the oil in a large skillet over medium heat. Add the beef and cook, stirring to break up the meat, until just browned. Stir in the Mad Dog 357 Ghost Pepper Hot Sauce along with the taco spice and beef stock. Stir to combine and simmer until the stock is mostly absorbed or evaporated. Remove from the heat.
 Assemble the tacos by scooping the ghostly taco filling into the taco shells and topping with the remaining ingredients in your favorite order.