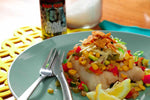 Getting more veggies and fish into your diet is good for you.
And, it doesn't need to be bland either. With a bit of hot sauce and deliciously fresh veg, you can make a meal that even the meat and starch folks in your family will wolf down. There's a slightly south-of-the-border flair to this healthy main dish for four, and we think it's worth the time to dice fresh peppers.
Yum.
 Ingredients
1 pound Tilapia fillets (or your favorite white fish)
1¼ cups Fish stock
2 tablespoons Olive oil
1 medium Onion, sliced
1 teaspoon Mad Dog 357 Ghost Pepper Hot Sauce
1 medium green bell pepper, diced
1 medium Red bell pepper, diced
2 medium zucchini, diced
2 cloves Garlic, crushed
¾ cup Corn kernels
2 medium Tomatoes, peeled and chopped
juice of 1 lime
Salt and cayenne pepper, to taste
or the topping
Tortilla chips, choose the healthiest you can find
1½ ounces Cheddar cheese, grated
Cilantro leaves, for garnish
 Preparation
 Preheat the broiler in your oven. Line a baking sheet with foil or baking paper and set aside.
 Place the fish in a wide, shallow pot and pour over the fish stock. Place on the stove and bring to a boil over medium-high heat. When it boils, cover the pan and reduce the heat to medium-low. Poach for 8 minutes, then remove from the heat. Separate into large flakes and keep hot.
 Meanwhile, heat the olive oil in a large skillet over medium heat. Add the onions and cook until soft. Pour in the Mad Dog 357 Ghost Pepper Hot Sauce and stir to coat the onions. Then, add the peppers and zucchini and cook for another 3 minutes. Add the garlic, corn, tomatoes, and lime juice. Season to taste and remove from the heat.
 Place the fish on the baking sheet and top fish with the veggies. Then, add the tortilla chips and cheese on top. Place the baking sheet under the broiler and cook until the cheese has become melty. Serve hot, garnished with cilantro… and maybe some more of that Mad Dog 357 Ghost Pepper Hot Sauce.