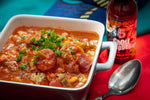 This is gumbo the way you've always wanted it to be, but haven't yet found on the menu anywhere.
The secret, of course, is the Mad Dog 357 Ghost Pepper Hot Sauce – and we suggest adding in as much as you can handle.
The recipe, which serves 8 people comfortably, is written with the least amount of cooking time that'll make this recipe delicious, though we strongly suggest simmering everything in the Dutch oven for as long as possible before adding the roux – and before adding the sausage and shrimp. It will make all the difference.
That does make this a weekend recipe – or one you'll save for National Gumbo Day on October 12th 
It's so delicious that you'll crave it every day of the week.
Ingredients
1 tablespoon Olive oil
5 cloves Garlic, minced
2 Onions, diced
2 Green bell peppers, diced
2 cups Celery diced
1-2 tablespoons
Mad Dog 357 Ghost Pepper Hot Sauce
3 tablespoons Cajun seasoning mix
1 can (28 oz.) Fire-roasted diced tomatoes
3 cups Chicken broth
¾ pound Andouille sausage
1 pound raw shrimp
6 tablespoons Butter
½ cup Flour
2 cups Milk
Salt, to taste
2 cups Dry rice
Preparation
Heat the oil in a Dutch oven over medium heat. Add the garlic, onions, bell peppers, and celery. Cook, stirring regularly, for 10 minutes until the veggies are soft.
Add the Mad Dog 357 Ghost Pepper Hot Sauce, along with the Cajun seasoning, tomatoes, and chicken broth. Bring to a boil, then reduce the heat and allow it to simmer for an hour.
In a skillet, melt the butter over medium, then add the flour and whisk to combine. Add the milk, a little at a time, whisking to incorporate it.
Add the roux (butter, flour, milk mixture) to the Dutch oven and stir to combine. Allow it to simmer for another 30 minutes, then add the sausage and shrimp, and cook until the shrimp is pink, then remove from the heat and season with plenty of salt.
Meanwhile, cook the rice according to package instructions and keep warm until ready to serve.
When the gumbo is ready, serve it hot with rice and a little more Mad Dog 357 Ghost Pepper Hot Sauce on the side.