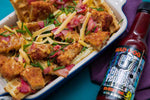 Ready to celebrate National Fried Chicken Day in style?
You'll need some chicken, some bacon, some cheese – and plenty of Mad Dog 357 Ghost Pepper Hot Sauce to transform an ordinary chicken and waffles dish into a feast for 8 that will be devoured as quickly as you can get it on the table.
 Okay, there are a few more ingredients, but not that many – and since it's really the Mad Dog 357 Ghost Pepper Hot Sauce mixed with the honey that makes this dish sensational, you can almost skip everything else.
 Plus, you can pull this together in less than 30 minutes, and serve it all on one platter to cut down on the dishes if that's your desire.
 The point is that you want this now and you're probably not going to wait until National Fried Chicken Day on July 6th to enjoy it.
We certainly won't.
Ingredients
2 boxes Frozen waffles, heated in the toaster until just warm and broken into wedges
1 teaspoon Mad Dog 357 Ghost Pepper Hot Sauce
¼ cup Honey
1 pound Frozen breaded chicken breasts
2 cups Cheddar, shredded
½ pound Bacon, cooked and chopped
¼ cup Chives, finely chopped
 Preparation
 Preheat your oven to 375°F. Line a baking sheet or tray with foil. Spread the warmed, wedged waffles on the top.
 In a small bowl, combine the Mad Dog 357 Ghost Pepper Hot Sauce with the honey and set aside.
 Prepare the chicken according to package instructions (preferably frying, if that's an option) – then cut into pieces. Brush the chicken with the Mad Dog honey mixture and place the bits on the waffles. Top with the cheese and bacon and bake in the oven for about 10 minutes – until the chicken is super crispy and the waffles are golden. Sprinkle over the chives and serve hot with plenty of napkins.