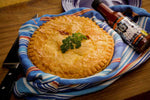 Now, what will you do with all those turkey leftovers taking up space in your fridge?
 It's a question for the ages and one you've probably tried to answer dozens of times… perhaps without the raging success that you could have. (Indeed, it's probably why you try to push people out the door with as many leftovers as you can fit in whatever Tupperware you're willing to part with.)
 And, before you turn up your nose at this pot pie, we want you to remember this is no ordinary pot pie. With just a teaspoon of Mad Dog, you can instantly transform boring into something rather marvelous.
 Who doesn't want that?
Okay, we know you can't share this with the smaller (or four-legged) members of the family. But that's okay because you won't want to – and it's decidedly simple to whip together. So much so that next year, you may just skip the turkey and see if you can bring away just enough leftovers from someone else to make this pie.
 They'll probably thank you for that… though nowhere near as profusely as your stomach will thank you.
 Ingredients
2 tablespoons Butter
1 each Onion, chopped
2 stalks Celery, chopped
3 each carrot, chopped
4 tablespoons all-purpose flour
1 teaspoon Mad Dog 357 Ghost Pepper Hot Sauce
4 cups Chicken stock (or turkey, if you have that on hand)
2 medium Potatoes, peeled and diced
2 cups Turkey, cooked and shredded
2 tablespoons Parsley, chopped
½ cup Peas, thawed if frozen
1 each pie crust or puff pastry sheet, defrosted
1 each Egg, lightly beaten
 Preparation
 Preheat your oven to 350º F.
Melt the butter in a saucepan or large skillet over medium heat. Add the onion and cook until tender. Then, add the celery and carrots and cook for another 2 minutes before adding the flour and cooking for an additional 2 minutes. Add the Mad Dog 357 Ghost Pepper Hot Sauce with the stock and bring to a simmer. Add the potatoes and simmer until tender, stirring occasionally. Stir in the turkey with the parsley and peas and stir to combine. Turn off the heat and pour the mixture into a casserole dish. Top with pie crust and brush with egg. Bake for 30 minutes – or until the crust is golden.
 Serve alongside the bottle of the Mad Dog 357 Ghost Pepper Sauce for those that can handle the heat.