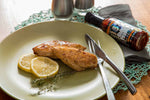 Anyone who's looked at weight loss or saving money in the kitchen has definitely stumbled on the phenomenon known as meal prep.
It just makes a lot of sense to portion out meals that you know you want to eat. You know, something that will keep you from dashing off to get some fast food when you're exhausted, running late, or starving.
This beautiful ghost chicken is exactly the thing that every chili head should have in their repertoire. It's super simple and way tastier than you could ever expect.
Even better, it pairs with everything… everything. Add some greens and slice these breasts to make a salad. Add some rice and steamed veg for a decadent dinner. Or, chop it and add your favorite taco toppings and a couple of tortillas and voila!
Seriously, it's like a miracle chicken, with the heat to make you crave it day in and day out. You'll be sold after just one bite. And then, you'll make it every week for the rest of the year.
Now, that's the sort of meal prep dish you want, isn't it
Ingredients
4 each Chicken breasts, skinless
3 tablespoons Butter
⅓ cup Chicken broth
1 teaspoon Mad Dog 357 Ghost Pepper Hot Sauce
4 tablespoons Lemon juice
1 tablespoon Honey
2 teaspoons Garlic, minced
1 teaspoon Italian seasoning
Salt and pepper, to taste
Preparation
Preheat your oven to 400ºF. Line a baking sheet with baking paper and set aside.
Melt the butter in a large skillet over medium-high heat. Add the chicken and cook for a couple of minutes (2-3) on each side, until just browned, then place the chicken on the prepared baking sheet.
Whisk together the Mad Dog 357 Ghost Pepper Hot Sauce, with the chicken broth, lemon juice, honey, garlic, Italian seasoning, salt, and pepper in a small bowl. Pour this Mad Dog sauce over the chicken and place it in the oven. Bake for 20-30 minutes, until the chicken is cooked through, spooning the sauce over the meat periodically.
Pour sauce over chicken. Bake 20-30 minutes until chicken is cooked through. Every 5-10 minutes spoon the sauce from the pan over the chicken