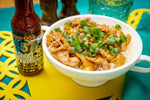 A little sweet and hella hot, this is a terrific recipe for rainy days.
All you need to do is pack a few ingredients (all of which you might have kicking around your kitchen already) into your slow cooker and enjoy some Chinese-style chicken at the end of it. Feel free to add more hot sauce… to your liking.
We certainly do!
 Ingredients
6-8 each Chicken thighs, boneless and skinless
Salt and pepper, to taste
1 teaspoon Mad Dog 357 Ghost Pepper Hot Sauce
1 large Onion, diced
2 cloves Garlic, minced
½ cup Honey
¼ cup Ketchup
¼ cup of Soy sauce
2 tablespoons Olive oil
4 teaspoons Cornstarch
Water, to cover the cornstarch
3 each scallion, sliced
2 cups Rice, uncooked
 Preparation
 Place the chicken in your slow cooker and season with salt and pepper, as desired.
 In a mixing bowl, combine onion, the Mad Dog 357 Ghost Pepper Hot Sauce, garlic, honey, ketchup, soy sauce, and oil. Stir well and pour over chicken. Cover and cook on low for about 4 hours, or on high for 2 hours.
 Remove the chicken to a plate to shred or chop into small pieces. (Leave the sauce in the slow cooker.) Return the chicken to the slow cooker once shredded and prepare the rice according to package instructions.
 In a small bowl, dissolve the cornstarch just enough water to make a paste; then stir this into the slow cooker. Cover and cook sauce on high for ten more minutes, until slightly thickened.
 To serve, add cooked rice to plates, spoon over the chicken and sauce. Sprinkle the sliced scallions and enjoy.