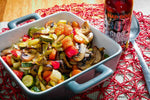 Sometimes you absolutely need the comfort of roasted veggies to liven your meal.
Even when it's warmer outside, it's one of those dishes you need on a rainy day to cheer your mood. And, as soon as you add a few drops of Mad Dog, you'll certainly feel full and happy. This recipe serves about four as a vegetarian main meal.
Or makers six to eight as a scrumptious side dish.
Ingredients
1 large Zucchini, halved and then sliced
1 large Onion, chopped
8 ounces Mushrooms, sliced
1 each Red pepper, chopped
1 each Green Pepper, chopped
5 small Carrots, chopped
½ teaspoon Mad Dog 357 Ghost Pepper Hot Sauce
Olive oil
Salt and pepper
½ teaspoon Garlic powder
Preparation
Preheat oven to 425ºF. Line two baking sheets with parchment paper. Add chopped vegetables to a mixing bowl. Add Mad Dog 357 Ghost Pepper Hot Sauce, olive oil (just enough olive oil to cover the vegetables), salt and pepper, and mix well. Spread vegetables evenly onto two pans. Roast for 20 minutes and then toss the veggies. Cook for another 10 minutes and remove from oven.