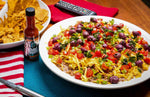 This is the kind of food you want to serve your friends when they come round.
Hell, it's so good, you'll want to eat this for dinner at least once every week. Of course, you will need to cut the recipe slightly as this will serve about 8 people as a super hearty snack or a main meal.
And, just so you've been properly warned, people will beg you to make this all the time after you serve it, so there's no point in waiting to print this recipe.
Just do it now.
Ingredients
3 cans (15 oz.) Refried beans
1 tablespoon Olive oil
2 pounds Ground beef
2-4 teaspoons Mad Dog 357 Ghost Pepper Hot Sauce
2 packets taco seasoning
¼ cup Water
1 cup Sour Cream
2 cups grated cheddar cheese
3 each tomato, chopped
5 FL oz. Salsa 
4 stalks Scallions, sliced
4-6 ounces Olives
Cilantro, to garnish, if desired
Corn chips, to serve
Preparation
Transfer the beans from cans to a microwave-safe container and cover. Heat in the microwave, stirring once or twice, until hot (about 3 minutes). Set aside.
Heat the oil in a large frying pan over medium-high heat. When hot, add the ground beef and cook, stirring regularly until browned. Add the Mad Dog 357 Ghost Pepper Hot Sauce (though you may want to start slow and give it a taste as you go) and the taco seasoning. Add the water and stir through. Continue to cook, stirring every now and again until the water has evaporated and the spice and sauce are equally distributed. Then, remove from the heat.
Assemble Mad Dog's Muchos Layer Nachos in a large serving platter, starting with the beans as the bottom later. Then add the cooked beef and pile on all the other ingredients except the corn chips. Serve with the corn chips and allow people to help themselves from the bowl. Or, provide a serving spoon and plenty of plates. Either way, you'll need plenty of napkins.