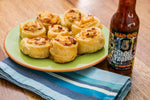 This super simple appetizer is perfect for any entertaining occasion
Just because you need an incredible Mad Dog snack.
 And yes, we know you can make the pastry from scratch – but why would you? Instead, just keep a couple of rolls in the freezer and you'll always be able to dive into this snack. After all, you probably keep the other ingredients on hand all the time.
Don't you?
Ingredients
8 oz. Readymade puff pastry
1 teaspoon Mad Dog Ghost Pepper Hot Sauce
2 tablespoons Ranch dressing
4 slices Bacon, crisply cooked and crumbled
½ cup Cheddar cheese, finely shredded
Preparation
Preheat your oven to 350°F.
Roll out the dough and cut lengthwise into 2 long rectangles.
In a small bowl mix the Mad Dog Ghost Pepper Hot Sauce with the ranch dressing. Spread this mix over each rectangle to edges. Sprinkle over the bacon and the cheddar cheese. Starting with one short side, roll up each rectangle; press edge to seal.
With a serrated knife, cut each roll into 8 slices and place onto an ungreased cookie sheet, cut-side down. Bake for 15 minutes or until edges is a deep golden brown. Immediately remove from the cookie sheet. Serve warm.