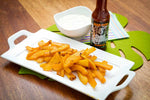 If scrumptious side dishes have eluded you in the past, you really don't need to look any farther than this recipe.
It's filling, but you will have a difficult time leaving any on your plate. The flavors work in unison to ensure that you're constantly reaching for these butternut fries. This dish works perfectly with steak or chicken, but you may just become addicted to the point where you need to make these mornings, noon, and night.
They're that good.
Ingredients
For the Fries
2 large Butternuts (or 4 large sweet potatoes, if preferred), peeled and cut into fry-shaped strips
1/4 cup Olive oil
2 teaspoons smoked paprika
1 teaspoon salt
For the Dip
1 tablespoon Mad Dog 357 Ghost Pepper Hot Sauce   
1/2 cup Mayonnaise
1/2 cup Sour cream
1/2 cup loosely-packed fresh Cilantro, chopped
1/4 teaspoon ground pepper
1 teaspoon salt
Preparation
Preheat the oven to 400ºF. Line a large baking sheet (or two smaller baking sheets) with baking paper or foil.
Add all the ingredients for the fries and toss to coat butternut with the other ingredients. Spread this mixture evenly over the baking sheet.
Bake for 20 minutes. Reduce the heat on the oven to 300ºF and stir the fries to flip. Bake for an additional 40 minutes, or until just beginning to crisp.
Meanwhile, prepare the Mad Dog cilantro dip by mixing together all the ingredients until smooth and creamy.
Serve the butternut fries on plates with a large dollop of the spicy dip.