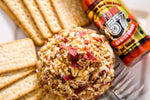 Every New Year's Eve party needs a cheese ball
Even if it's just a few people (even if it's just you and your family). And, once you've accepted that, you'll quickly figure out that this is the specific cheese ball you want.
It's got bacon. It's got some searingly wonderful Mad Dog hot sauce (and, yes, we really think the Gold Edition sets the tone nicely). And the garlic, cumin, and "Wuster" sauce draw out the flavor of the cheese oh so perfectly. (For reference, Wuster is closer to how the English pronounce it. They never go through the trouble of saying Worcestershire.
And since they can claim the name, we think it's safe to stick with Wuster.)
And, might we say that the crunch of the pecans and the bacon make this super, wonderfully addictive. (Well, that, and the Mad Dog 357 Gold Edition hot sauce, if we're really honest.)
Even more exciting is the speed at which you can whip this together. It should take you less than ten minutes to get it in the fridge and then you can simply pull it out when guests arrive – along with a warning on the heat. (Or, if it's an adults-only sort of a gathering, you might just want to let them figure it out for themselves.)
Ingredients
½-1 teaspoon Mad Dog 357 Gold Edition
2 packages (8oz) Cream cheese, room temperature
1 cup Cheddar Cheese, shredded
1 clove Garlic, minced
½ teaspoon Worcestershire sauce
¼ teaspoon Ground cumin
6 slices Bacon, cooked and chopped, divided
¼ cup Pecans, toasted and chopped
Preparation
Combine the Mad Dog 357 Gold Edition with the cheeses, garlic, Worcestershire, cumin, and half the bacon in a mixing bowl. Stir together until well combined and shape into a ball.
In a wide, shallow bowl, combine the remaining bacon with the chopped pecans until evenly mixed. Roll the ball in this mix until it's coated on all sides. Wrap in plastic and place in the fridge for at least an hour. Serve with crackers – with the bottle of Mad Dog 357 Gold Edition on the side if you're willing to share.