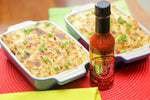 Believe it or not, but July is National Baked Beans Month.
And, this recipe certainly makes it worth picking up a few cans of baked beans next time you're out. It's got everything you need for a comfort meal that you'll crave all year round (no matter what the weather).

Plus, it's deceptively simple – and yet, if you divide it into individual portions, you could absolutely make this a special dish for an informal gathering of friends that can handle the heat that will flow through every delish bite of each pie.

It serves four as it's written, but it doesn't do that badly in the freezer if you want to make a second portion for that moment when you don't want to do any cooking, but want something delicious.
Yum!


Ingredients
4 medium Potatoes, quartered
2 tablespoons Butter
2 tablespoons Milk
Salt and pepper, to taste
1 pound Ground beef
1 large Onion, chopped
2 small Carrots, diced
a few drops Mad Dog 357 Gold Edition hot sauce
1 can Baked beans
Preparation
Preheat your oven to 375°F. Set aside 4 individual ovenproof dishes or 1 family-sized dish.
Place the potatoes in a pot and cover with plenty of water (enough to cover plus an inch or two). Bring the water to a boil and simmer for about half an hour, until the potatoes are soft. Drain the water and return the potatoes to the pot with the butter, milk, and salt and pepper, to taste. Mash and allow to cool slightly.
Tip: Ignore the urge to make creamy mashed potatoes, they need to have more form and structure, so add in the minimum amount of butter and milk possible.
Meanwhile, brown the meat in a large skillet over medium-high heat. Add the onion and carrot and stir to combine. Then add a few drops of Mad Dog 357 Gold Edition Hot Sauce along with the can of
baked beans.
Simmer for 20 minutes, stirring as needed to prevent any sticking.
When the potatoes and the Mad Dog meat and bean mixture is ready, spoon the meat and beans into the dish(es). Carefully spoon over the potatoes and smooth with a blunt knife. Place in the oven and cook for 20 minutes, followed by 2-3 minutes under the grill to crisp the top of the potatoes. Serve hot.