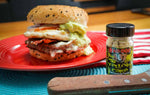 There's no reason to stick to regular burgers when you can easily jazz them up to your liking.
And, this is absolutely the best way to do breakfast-for-supper. It's got everything you want, plus a wild sweet heat that'll make you dance around the room. It might be from happiness; it might be from heat.
Probably a bit of both.


Serves: 4
You'll need:
1 teaspoon Mad Dog 357 Yellow Cake Capsicum Powder
1 lb. ground beef
salt and pepper, to taste
8 slices bacon
4 eggs
4 hamburger buns, split open
1 cup guacamole
To serve: onions, lettuce, mayo or any of your other favorite burger toppings
Preheated grill or broiler

Preparation

In a mixing bowl, combine the Mad Dog 357 Yellow Cake Capsicum Powder with the ground beef and salt and pepper, to taste. If you're using your hands to combine these ingredients, be sure to wear gloves or regret it instantly. Shape into 4 hamburger patties.

Place patties on a baking sheet under the broiler – or place on your grill. Cook until done to your liking, flipping once.

Meanwhile, heat a large skillet over medium high heat and cook the bacon slices until just crisp, turning, as needed. Remove from the pan and set aside, covered to keep warm. Crack the eggs, one at a time, into the skillet and cook until the white has set. Carefully flip eggs and cook for another minute. Turn off the heat.

Begin assembling your hamburger buns, adding the burgers when they're cooked through, along with 2 slices of bacon, 1 egg and a healthy dose of guacamole to each one.

Serve hot, with your favorite Mad Dog hot sauce for a little extra heat.