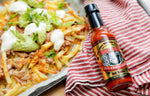 Serve this when you are going to watch the game
One bite and you'll instantly be digging for more and fighting over the last French fry on the plate.
Think we're kidding?
We're not. Instead, we're going to warn you about the addictive, mind-blowing heat of our Mad Dog 357 Gold Edition Hot Sauce. Cause, yeah, it'll take your face off… but you'll keep coming back for more.
Serves: 4-6
You'll need:
several drops Mad Dog 357 Gold Edition Hot Sauce
1 cup of Salsa
28-ounce bag Frozen French fries, cooked according to instructions
2-3 cups cooked, shredded pork (or chicken or beef)
2 cups shredded Cheddar cheese
Sour cream, Guacamole, chopped Cilantro
Oven preheated to 350°F and a baking sheet lined with parchment paper
Preparation
Combine the Mad Dog 357 Gold Edition Hot Sauce with the salsa and set aside.
Place cooked fries on the prepared baking sheet and top with shredded meat and cheese. Cook in the oven for 5-7 minutes, until the cheese, is melty. Add the Mad Dog salsa, guacamole, sour cream, and cilantro and serve with plenty of napkins and more Mad Dog 357 Gold Edition Hot Sauce for anyone who is brave enough.