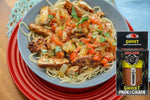 You've never really had pasta like this before.
It's got all the heat that comes from our Mad Dog 357 Pain on a Chain Ghost Powder mixed with the Cajun flavors and a healthy blend of Italian pasta traditions.

Could you ask for anything more from a fast and easy dinner for four?

Yeah, we didn't think so.

Oh, wait, how about the fact that you could just have everything waiting for you in your kitchen already.
Now, that's perfection.


Ingredients

1 teaspoon Mad Dog 357 Pain on a Chain Ghost Powder
¼ cup Cajun spice mix
4 Chicken breasts, flattened
1 clove Garlic, minced
1 small Onion, finely diced
¼ cup Dry white wine
1½ cups Chicken stock
1 Tomato, chopped
1 tablespoon Fresh herbs, chopped
Salt, to taste
½ pound Penne, cooked according to package instructions

Preparation

Combine the Mad Dog 357 Pain on a Chain Ghost Powder with the Cajun spice mix in a small mixing bowl. Rub this Mad Dog mix into the flattened chicken breasts. (And, be sure to wear gloves unless you want your hands to burn!)

Spray a large, cast-iron pan with cooking spray and heat it over medium-high heat. When the pan is very hot, add the chicken breasts and fry for roughly 6 minutes, turning once, until cooked through. Remove the chicken from the pan and (when cool enough to handle) slice into thin strips.

Meanwhile, add the garlic and onion to the pan and cook for 4-5 minutes, until the onion is soft. Then, add the wine and use it to deglaze the pan. Add the remaining ingredients except for the penne pasta. Cook this mixture, stirring occasionally, for about 8 minutes.

To serve, divide the pasta between plates, add the sliced chicken strips, and spoon over the sauce.