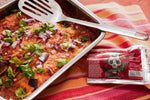 Need to feed a party this Cinco de Mayo?
You'll get 16 flaming hot enchiladas from this incredible recipe – and they'll be gobbled up immediately.

Sure, it takes a little time to put it all together, but it's quite an incredible blend of flavors with Mad Dog at the bottom and top, so you'll get the best burn you've ever had in an enchilada.

Don't believe us?
Just give it a try and you'll see!


Ingredients
for the Mad Dog sauce
½ - 1 Mad Dog 357 Reaper Peppers, chopped
1 cup Water, hot
1 medium Onion, quartered
3-4 cloves Garlic
1 tablespoon Ground cumin
1 1/2 teaspoons Ground coriander
1/2 teaspoon Mexican oregano
2 tablespoons Olive oil
2 1/2 cups Tomato sauce
1 cup Water
Salt and pepper, to taste

for the filling
2 tablespoons Olive oil
1 large Onion, thinly sliced
1/2 cup Chicken broth
4 cups Chicken, cooked and shredded
1 teaspoon Ground cumin
1/4 cup Cilantro, chopped
3 cups Cheddar or Monterey Jack cheese, shredded
Salt and pepper, to taste

to serve
16 large Tortillas, warmed
Chopped red onion, cilantro, your favorite Mad Dog 357 Hot Sauce and sour cream, for serving

Preparation

Place the Mad Dog 357 Reaper Peppers in a bowl and pour over the hot water. Allow to sit for a few minutes, until softened.

When soft, transfer the Mad Dog 357 Reaper Peppers - in their water - to a food processor or blender along with the onion, garlic, cumin, coriander, and oregano. Pulse until smooth.

Heat the oil in a large skillet over a medium to low heat, add the tomato sauce and water, along with the Mad Dog sauce, sieving if desired (though the veggies are oh so good!). Cook for about 15 minutes until the sauce reduces and thickens. Season, to taste with salt and pepper.

Pour a little less than a cup of the sauce into one large (or two small) shallow baking dishes and set aside.

Preheat your oven to 350°F.

In a separate, large skillet, heat the remaining oil over medium heat and add the onions. Cook, stirring regularly, for about 10 minutes until lightly browned. Add the chicken broth and cook until the broth has mostly evaporated. It should take another 10 minutes. Then remove from the heat, and stir in the chicken, cumin, cilantro, and about half the cheese. Season the mixture with salt and pepper, to taste.

Lay the warm tortillas out and divide the chicken mixture between them. Roll into open burritos (cylinder shapes without the closed end). Place enchiladas in the baking dishes and pour over the remaining sauce. Sprinkle over the remaining cheese and cover the dishes with foil. Place in the oven.

Bake for 25 minutes, then remove the foil and return baking dishes to the oven and cook for another 20 minutes until hot and bubbling. Remove from the oven and cool slightly, before serving with your favorite Mad Dog hot sauce and toppings.