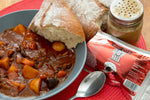 Ask the Irish, a lamb stew made with stout beer is the business.
Ask us, we say it too, only we've added in heat that most Irish wouldn't dream of touching. The result is 100% genius. Wildly filling, but more importantly, wildly hot.
Be careful, when it comes off the stove it really is like lava!


Serves: 6
You'll need:
olive oil
3 pounds lamb shoulder, cubed
½ cup all-purpose flour
½ Mad Dog 357 Naga Peppers, cut into slivers
2-3 cups baby potatoes, quartered
3 carrots, peeled and cut into chunks
3 parsnips, peeled and cut into chunks
6 stalks celery, sliced
1 onion, chopped
4 cloves garlic, minced
leaves from several sprigs fresh thyme
1 can stout beer
4 cups beef stock
salt and black pepper, to taste

Preparation

Heat a swirl of oil over medium heat in a large soup pot. Sprinkle the lamb with ½ the flour and add to the pot when the oil is hot. Brown the meat, then remove from the pot and sprinkle with the remaining flour.

Add the Mad Dog 357 Naga Peppers along with the remaining veggies and herbs. Stir to soak up the fat. Pour the beer into the pot and stir to scrap up the browned bits from the bottom. Add the stock and bring to a boil. Reduce the heat to medium-low. Cook, stirring occasionally for 2 hours, returning the lamb to the pot after 1 hour. Check the spice levels and serve with rolls or bread for sopping up the juices.