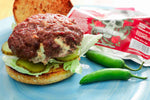 Jalapeño poppers stuffed inside hamburgers?
YES please! This recipe makes six of the most incredibly succulent burgers. Grill them, broil them, just as long as you make them. And, they're way easier than you would imagine. Why wait for National Burger day, make these today.
You know you want to.


Ingredients
2 pounds Ground beef
1 tablespoon Worcestershire sauce
½ teaspoon Salt
½ teaspoon Garlic powder
¼ teaspoon Black pepper
½ each Mad Dog 357 Reaper Pepper Pod, finely crushed
4 ounces Cream cheese, softened
½ teaspoon Ground cumin
1 tablespoon Dried onion flakes
6 each Hamburger rolls
Favorite hamburger toppings (and perhaps some extra Mad Dog sauce)

Preparation
Combine the beef, Worcestershire sauce, salt, garlic powder, and pepper. Shape into 12 thin patties, each about 4" in diameter. Set aside.

Mix the finely crushed Reaper Pepper Pod with the cream cheese, cumin, dried onion, and minced jalapeno. Spread half of the patties with the peppery-cheese mixture, spreading it to within 1/2-inch of the edge.

Place plain patties over those with the peppery-cheese mixture and press to seal the edges. Broil or grill the patties (4" from the heat), turning once if possible, until preferred doneness - about 10 to 15 minutes.

Serve on the rolls with your favorite toppings.