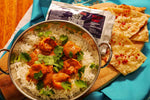 This is hotter than hell and even more delicious than that.
Indeed, it may just change your mind about making curries, as it's also super fast to prepare. It'll serve about four people, but you probably won't want to share too much; the coconut cream and the scorpion pepper pods make quite a pair,
One you'll crave from here on out.


Ingredients
1 Mad Dog 357 Scorpion Pepper Pod, chopped
½ cup Plain yoghurt (thick)
2 tablespoons Desiccated coconut
1 teaspoon each: Paprika, Garam masala spice, Ground coriander
½ teaspoon ground cumin
5½ ounces Coconut cream
1 pound Jumbo shrimp or King prawns, peeled, deveined
2 tablespoons Canola oil
1 large Onion, finely chopped
2 cloves Garlic, crushed
2" piece Ginger, peeled, grated

Preparation
Combine the Mad Dog 357 Scorpion Pepper with the yoghurt, coconut, spices, and coconut cream in a large bowl. Season, to taste, with salt and pepper.

Add shrimp or prawns to the Mad Dog mix and stir until well coated. Cover and refrigerate for 30 minutes.

When ready, heat the oil in a frying pan over medium heat. Add the onion and cook for 3 minutes, until soft. Add the garlic and ginger and cook for 1 minute. Then, add the shrimp or prawns and the marinade. Cook, stirring often, for 10 minutes or until cooked through.

Spoon over rice and top with cilantro leaves.