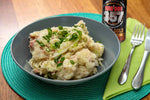 For the fiery redness of stereotypical Irish hair, food from this island is hardly known for its flavor and heat.
We're changing all that with this traditional Irish dish. Now, you'll need quite a few pots and pans to make this work, but it really is the most delicious way to eat cabbage, potatoes, and corned beef – together or on their own.
Seriously. It's that scummy.
Ingredients
3 pounds Red potatoes, quartered
1 head Cabbage, cored and shredded
½ cup + 2 tablespoons butter, divided
1 teaspoon Garlic, minced
4 each Green onions, sliced, white parts and tops separated
½ teaspoon Mad Dog 357 Pure Gold Hot Sauce
1¼ cups Milk, hot
1 pound Corned beef, cook, cut into pieces and warmed
White pepper, to taste
Preparation
Add the potatoes to a large saucepan and cover with water. Bring to a boil over high heat. When boiling, reduce the heat to medium, cover, and simmer until tender. It should take about 20 minutes. Drain, mash, and return to the pot.
Fill a separate pot halfway with water and sprinkle in some salt. Stir in the cabbage with the 2 tablespoons of butter. Cover and simmer until soft. Drain.
Heat the ½ cup of butter in a skillet over medium heat. Stir in the garlic, white sections of onions, and the Mad Dog 357 Pure Gold Hot Sauce. Cook for 30 to 60 seconds until the garlic is fragrant. Pour this into the pot with the mashed potatoes. Add the milk, cabbage, and corned beef. Stir to combine. Season with white pepper, to taste. Serve, sprinkled with the green onion tops.