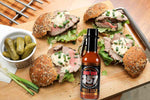 On a hot summer's day, there's nothing better than a simple sandwich to fill your belly in the middle of the day.
Make the sandwiches small enough and you'd be surprised how many mouths you can feed before heading off to the beach, the ball game, or just grabbing a beer for the backyard. And these slider sandwiches have a marvelous blend of heat, flavor, and simplicity.
The recipe makes 6 mini sandwiches that will disappear quickly – make double!
Ingredients
a few drops of Mad Dog 357 Pure Gold Hot Sauce
3-4 tablespoons Horseradish sauce
6 each Slider buns (or your favorite small rolls)
3 handfuls lettuce leaves, roughly torn
12 slices Deli roast beef
3 stalks Scallions, sliced
Preparation
Combine the Mad Dog 357 Pure Gold Hot Sauce with the horseradish sauce in a small mixing bowl and set aside.
Slice open the buns and top the bottom halves with the torn lettuce leaves. Add the roast beef and a dollop of the Mad Dog horseradish. Sprinkle over scallions and replace the tops of the buns. Serve with pickles- or chips on the side and watch them all disappear.