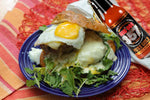 If you were going to choose a fancy double cheeseburger to celebrate it would probably have to be this one.
It's got truly everything you could want: a blend of heat and tanginess with plenty of cheese and two totally special hamburger patties. Really, you need these burgers more than you can imagine right now…
They're that deliciously stupendous.
Ingredients
For the Pure Gold garlic mayo
1 tablespoon
¼ cup Mayonnaise
1 clove Garlic, minced
½ each Lemon, juiced
For the Liquid Fire burgers
2+ teaspoons
Mad Dog 357 Pure Gold Hot Sauce
2 pounds Ground beef
½ teaspoon Dried thyme
½ teaspoon Salt
¼ teaspoon Pepper
8 slices Gruyere cheese
To serve
4 each Hamburger buns, split
4 large eggs, fried
Fresh arugula
OPTIONAL: sliced tomatoes, onions, or a sprinkling of capers
Preparation
Preheat the broiler on your oven to high. Line a baking sheet with parchment paper and set aside.
Prepare the Pure Gold garlic mayo by placing the Mad Dog 357 Pure Gold Hot Sauce in a small mixing bowl with the remaining ingredients. Whisk until well mixed then cover and chill in the fridge until ready to use.
To create the Liquid Fire burgers, add the Mad Dog 357 Pure Gold Hot Sauce to a large mixing bowl with the ground beef, thyme, salt, and pepper. Combine well, and shape into 8 burger patties.
Place burger patties on the prepared baking sheet and place in the oven. Broil for 10-12 minutes, turning once, until done to your liking.
Meanwhile, fry the eggs for your burgers on the stovetop using butter or oil, as you usually would.
When the burgers are cooked through, turn off the oven but leave the burgers on the sheet inside. Place a slice of cheese on each patty and close the oven door. Allow a few minutes for the cheese to just melt.
Assemble the burgers by placing plenty of rocket on each bottom bun, topping with a little Pure Gold garlic mayo, placing a cheese-topped burger patty on top. Drizzle over more of the Liquid Fire garlic mayo, then add another patty and top with a fried egg.
Add any optional ingredients you desire, then top with the bun tops and serve with a bottle of Mad Dog 357 Pure Gold Hot Sauce on the side.