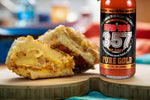 Fiery Mozzarella Stick Grilled Cheese is the most drool-worthy way to make the most of a day.
It's easy to see why. You know you want cheese on top of cheese when you're partying, well, cheese. Throwing some cheese sticks in the middle just makes it better.
But it's really the Mad Dog in the mix that makes this more than you ordinary grilled cheese. Just think of it as the next level of cheesy goodness that you crave all year long (as if you need a national cheese day to love these).
Just a warning, this recipe only makes enough for two sandwiches.
But at least it's easy to multiply.
Ingredients
4 tablespoons butter, at room temperature
4 thick slices Italian bread
1-2 teaspoons Mad Dog 357 Pure Gold
12 slices Cheese, be sure to mix it up between mozzarella, cheddar, and American
6 each Mozzarella sticks, cooked according to package instructions
Preparation
Heat a griddle over medium-low heat (or use a panini press, if you have one). Butter one side of each slice of bread and arrange on the pan or press with the buttered-sides down.
Spread the Mad Dog 357 Pure Gold liberally along the tops of each slice of bread, then, top each slice of bread with 3 slices of cheese (whatever mix of mozzarella, cheddar, and American that you want) and cook until the bottoms are toasted and the cheese is melted, it should be about 4 to 5 minutes.
Divide the baked mozzarella sticks between just two of the bread slices, then top with the remaining bread slices. Remove from the heat, slice, and serve.