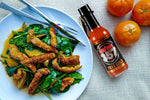 This incredible salad is perfect for summer entertaining.
In fact, we don't know what you're waiting for; you want to eat this dish right now – and probably every day for the rest of your life. Sadly, this recipe only makes 4 portions, and we do suggest making more chicken so you have some on hand for the rest of the week to serve with your Mad Dog 357 Pure Gold Hot Sauce.
It's spicy and super delicious and seriously easy to make.


Ingredients

1-2 tablespoons Plain flour
Salt and pepper
4 each Chicken breasts, cut into strips
2 medium Eggs, beaten
4 ounces Breadcrumbs
Oil for shallow frying
8 ounces baby spinach leaves, washed
2 tablespoons dark soy sauce
1 teaspoon Mad Dog 357 Pure Gold Hot Sauce
2 medium Oranges, segmented
Mad Dog Liquid Fire

Preparation:

Sprinkle the flour on a plate and season with salt and pepper. Coat each strip well in the flour. Then, dip each strip in the egg to coat it. Then, dredge it through the breadcrumbs. Set coated chicken aside.

Heat the oil in a wok or large frying pan and fry strips in batches until crisp and golden. Drain on a paper towel and keep warm while finishing the rest of the strips.

In a separate pan heat a teaspoon of oil, add spinach, soy sauce, and Mad Dog 357 Pure Gold Hot Sauce and cook for a minute until leaves have wilted. Toss in orange segments and chicken strips and serve.